When I had the honor of launching Howerton+Wooten Events in 2007, my son Langston was 7 years old. Over the last 10 years, I feel like I have learned quite a bit as an entrepreneur raising a son, so I wanted to share some of those lessons with you —
1. Life Balance Doesn't Happen Without a Game Plan. Unfortunately, life balance doesn't just happen. You have to create and implement a game plan to achieve it. Here's how I did it —
Schedule Family Time in Advance. As I mentioned before, Langston was in second grade when I started Howerton+Wooten Events. To ensure we enjoyed some daily "play time," I blocked an hour every day at 3:30 p.m. to pick him up from school and take him to the park. If my clients asked me to schedule a conference call or a meeting during that time, I simply said that I had an appointment at 3:30 p.m., but I was happy to schedule some time for them at 2:00 p.m. or 4:45 p.m. Since I knew it would be very tempting to break my daily appointment with him, I made a point of getting up every day at 4:30 a.m. to "get ahead" of my e-mails and event work. Friday evening is "Chris Wooten" time — We order pizza or subs; we watch TV together; and we discuss the happenings of the week. Langston and I also had a weekly "mom/son" date at California Tortilla. I would leave my phone in my car's glove compartment so he and I could have a meal and an actual conversation. We continued that tradition until he started high school. That's when he dumped me (smile).
Let Go of the Guilt and Set Some Boundaries. When I first started my business, I had to make sure my family understood that "work-at-home" moms and "stay-at-home" moms were two completely different beings. As a work-at-home mom, I had to unapologetically communicate to my family that I had clients, business hours, meetings and conference calls that needed my attention. I also made sure my family understood that my home office was my workspace and it was off limits. This minimized distractions and interruptions.
Get Help. Over the years, I have learned to delegate and outsource "help" with the projects/tasks that sucked up my time. The "help" has included tutors, babysitters, summer camps, landscapers, cleaning ladies, admin assistants, delivery services, accountants, and writers. Getting help allowed me to get rid of some of my "busy work" and it gave me time to focus on the tasks that mattered most.
Take Time for Yourself. Make sure that your weekly schedule includes your gym/yoga time, time with your friends and time to veg out. This will be key for your mental health.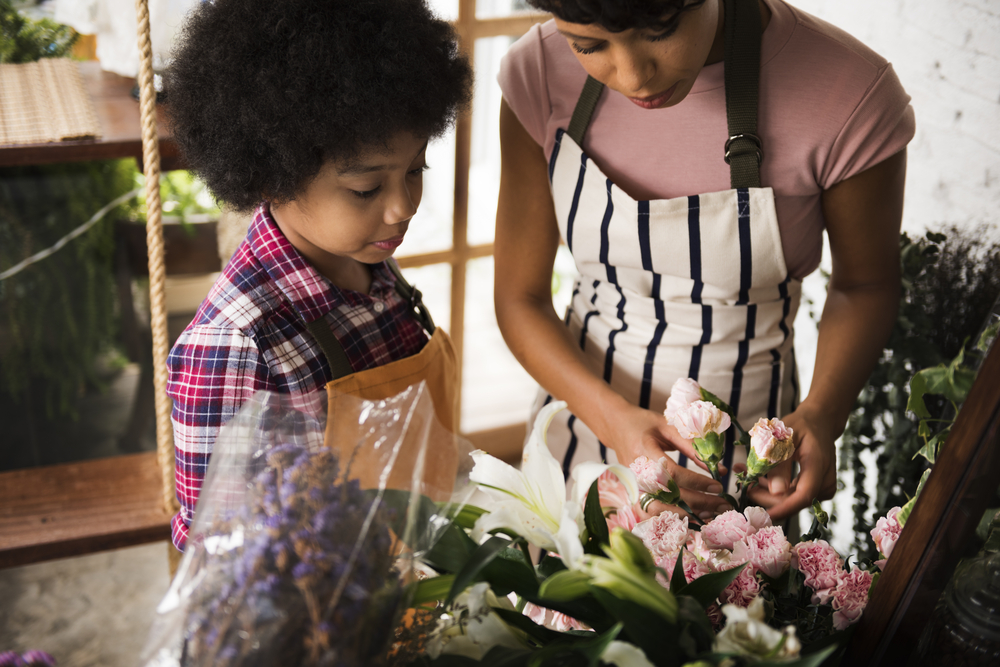 2. Comparison (ahem Social Media) is the Thief of Joy. Raising children is an omnipresent job. — When you add in running a business, you are left with very little time for anything else. So, when you see Facebook posts and Instagram posts of your competition juggling twice as many projects as you, don't assume you are failing as an entrepreneur. It may have everything to do with the number of responsibilities on their plate compared to the number of responsibilities on yours.
3. As They Get Older, Allow Your Children the Opportunity to Work with You on a Project or Two. When Langston turned 11 or 12, he earned his allowance by helping me set-up and tear down weddings and events. Initially, he did it begrudgingly. Then, he got his first pay and his attitude changed. Eventually, he became a valuable member of my set-up team. The jury is still out (smile), but I believe this taught him about work ethic and the value of the money you earn.
4. Beware of the "Olivia Pope" trap! One Easter, when Langston was 4 or 5, I was working on an event that consumed me. That Easter morning, I woke up to a chubby faced Langston standing by my bed looking very serious. Then he said, "Mommy, you need to call someone because the Easter Bunny forgot to come to our house." Horrified by my mistake, I told him to go back to bed and I would get to the bottom of the issue. Guess what I learned that morning? Target, K-Mart, Wal-Mart and Michael's are closed on Easter, so I spent $100+ that morning on all of the Easter-related items I could find at CVS.
And, all was right with the world, right? Yes and No. I loved that I could preserve the myth of the Easter Bunny for another year. And, I loved that Langston trusted me to save the day. But, I basically became "Mommy the Fixer" — When he needed help with his school projects, I helped him. If he forgot to bring his lunch to school, I brought it in. If he felt like a teacher wasn't treating him fairly, I requested a parent/teacher meeting. I eventually realized I was doing him (and me) a disservice. — He became completely dependent on me, which was a bit of a time sucker, and I became a bit of a martyr. So, I crowned Chris Wooten (my husband) the co-fixer. Then, I taught Langston how to address these issues himself (without me).
5. "Mom Fails" Happen. There are going to be days when you feel like you failed as a mom. We have all been there. (Ahem, did you read the previous paragraph where I stated I FORGOT EASTER!) But, here is the thing — None of us left the hospital with our babies and a "Mom Manual" in tow. We are bound to make some poor choices. It doesn't mean we are mom failures — It means we are human. Once, I didn't take Langston to the doctor right away because I thought he was "faking" his illness. Turns out, he had the swine flu (yes, the swine flu). I felt like poo and I swore I would never make a mistake like that again. Guess what? I " mom failed" at something else. On the flip side, I kick butt as a mom at so many other things. Bottom Line — No mother is perfect. You will make mistakes. But, more than likely, you will do more things as a mom that are absolutely perfect. Try to focus on that.
Happy Mother's Day
Love and Soul Always, Kawania